This article is incomplete!

This article is a stub. You can help the wiki by expanding it.
Careers are easy and fast ways to earn starcoins and fame. Careers were introduced November of 2013. They are found at the top bar under "Activities". When you make a new user, you are given missions to complete. Careers are similar to these missions. You have a total of 3 paths to choose from: Movie Star, Socialite and Fashion Guru. These missions help you earn StarCoins and Fame. In addition to this, you can choose a path (or two or three) to guide you in becoming a successful player.
A new player completes each career for 50 Fame and 100 StarCoins (+100 SC for VIP). After the player finishes all of the starting careers, they will continue to get any random 2 out of the 3 careers each day for 10 Fame and 10 Starcoins each.
Moviestar
This career is for the creative - your missions consist of making artbooks, listening to tunes on YouTube and finding your inner MovieStar. The character for this path is Starla Sky.
Socialite
Socialite is another of the 3 careers you can choose from. Socialites are popular, so your missions help you make new friends by visiting chatrooms and being more active in MSP. The path is unlocked after completing the first mission of the Moviestar path. The character for this path is Coco.
Fashion Guru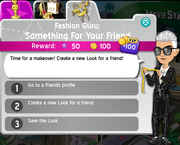 Love fashion? This is the career for you! Fashion Gurus find a passion in clothing and designing. Their missions consist of shopping, making looks, and style! The path is unlocked after completing the first mission of the Socialite path. The character for this path is Caesar.
Ad blocker interference detected!
Wikia is a free-to-use site that makes money from advertising. We have a modified experience for viewers using ad blockers

Wikia is not accessible if you've made further modifications. Remove the custom ad blocker rule(s) and the page will load as expected.