This article is incomplete!

This article is a stub. You can help the wiki by expanding it.

Diamonds are the premium currency in MovieStarPlanet.
What are Diamonds?
Diamonds can be used at the Diamond Shop, located in the Shopping section, to buy exclusive clothing or items, animations, etc. You can do a "Diamond Ride" for 15 diamonds, which is when 1,000 starcoins "rain" down in a chatroom for other users to collect, while the buyer of the Diamond Ride gets to have 1,000 starcoins in their bank. You can give a friend a greeting for 15 diamonds, where you each receive 500 starcoins, 3,000 fame points, and an item. Other diamond specials include Fame Booster (5 diamonds), Fame Wheel (4 diamonds), a Shopping Spree (25 diamonds), Diamond Status (1 diamond), The Diamond Profile (15 diamonds), Pet Growth (cost depends on pet's level), and Pet Change (6 diamonds).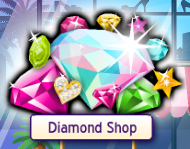 Obtaining Diamonds
Currently, the only ways to obtain diamonds is receiving them when you buy any type of VIP, buying a diamond package, winning contests in the competitions, or receiving them as part of a daily reward when you have Elite or Star VIP from the piggy bank.
Trivia
Diamonds were introduced to MovieStarPlanet in July 2012.
You can not gift or trade any clothes or items purchased with diamonds.
You can only use Pet change with retired boonies and bonsters.
Gallery
See Also