This article is part of our HSStub project.
Currently, it doesn't live up to our wiki standards, but you can help us by expanding it or sharing what you know in a related discussion.
To learn more about this project, go here.
91
Fabinouche !!!
Mega Movie Star
Fabinouche !!! is a regular user on MovieStarPlanet (FR). She is level 91 (Mega Movie Star), and is in the 4th spot on the FR highscores board.
About
In September 2014, she was banned without reason but has since been unlocked.
Fabinouche's movies are mainly movie series'. Her most known movies series' are "Une Naissance Maudite" with over 40,000 views and "Amoureuse D'un Riche" with 27 episodes. Her movie series' are mainly about love stories and heartbreak, and occasionally horror.
In July, 2015, as POUPINIE was banned, Sarah was the highest leveled player on the French server. But later, POUPINIE was unlocked and Sarah returns to the 2nd spot.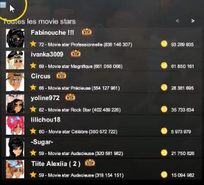 Usual Appearance and Style
Fabinouche has blue "Sweet Stuff" eyes, a tan skin tone, a pointy nose, and beige "Perfect Pout" lips. She often cosplays as characters, such as "Yandere-chan" from the game Yandere Simulator.
Trivia
She is one of the few people throughout all the servers to have over 100 million starcoins.
Her real name is Sarah.
She has a sister named Vanessa.
She likes manga such as Naruto and One Piece.
Gallery
Ad blocker interference detected!
Wikia is a free-to-use site that makes money from advertising. We have a modified experience for viewers using ad blockers

Wikia is not accessible if you've made further modifications. Remove the custom ad blocker rule(s) and the page will load as expected.