This article is incomplete!

This article is a stub. You can help the wiki by expanding it.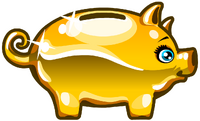 The Piggy Bank is a feature on MovieStarPlanet.
For non-VIPs, the piggy bank collects VIP fame and StarCoin bonuses, however cannot be opened until the player has VIP. For VIP players, the piggy bank still collects their VIP fame bonuses and will also collect their daily diamonds and StarCoins (if their VIP tier has these).
Trivia
The fame in the piggy bank is not affected by the fame booster perk.
The maximum amount of fame you can keep in the bank is 5,000 and the maximum amount of StarCoins is 2,500 (non-VIP).
There is no known limit for VIPs.
Ad blocker interference detected!
Wikia is a free-to-use site that makes money from advertising. We have a modified experience for viewers using ad blockers

Wikia is not accessible if you've made further modifications. Remove the custom ad blocker rule(s) and the page will load as expected.