Pumpchkin is a regular player of MSP. She is a Level 25 (Legendary Movie Star) VIP, Judge and Celeb. Also, she is the highest level on the American MSP. She used to be in a relationship with Donnie C. Being the highest level on the American MSP, she is quite famous/popular amongst players. Her backup accounts are pumpi and Pumpi Pie <3. Her Youtube is forverdeen16 and msp_pumpchkin. She also has a  twitter account called msp_pumpchkin.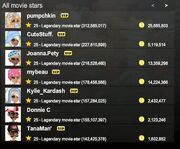 Popularity and Hate
Edit
As said before, since Pumpchkin is the highest highscorer on the USA MSP, therefore is without a doubt the most popular. She has gained attention from the other countries in the MSP community as well. Unfortunately, she gets quite a lot of hate from users. They have said that she uses cheating engines, is a hacker, etc. She has responded to hate on YouTube videos with her back-up, Pumpi. 
Artbooks, Looks and Movies
Edit
Pumchkin has made a lot of artbooks, looks and movies. Her artbooks are often made for special occassions, to announce something or other things. Her movies are also very popular, her most popular being actually earning the most starcoins on the highscores for movies. Pumpchkin also makes a lot of looks, all of which get popular very easily. Her most popular is the look with most loves on the highscore board for looks and her other look with the most purchases. She is very famous for making the 3 series "Mother In Law NightMare" "Pink Tear Drops" and "Beautiful Betrayal."
If you have anything to say about Pumpchkin, please post it down here!
She is SO amazing!!! I love her to peices. EE>EE>EE>

Im not sure bout her.
She is awesome.
AmAzInG!