This article is incomplete!

This article is a stub. You can help the wiki by expanding it.
Samantha (Extra)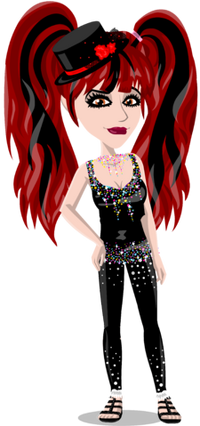 Samantha (also known as "Samantha (extra)") was a character on MovieStarPlanet from 2009 to 2015. In 2015, she and her account were replaced by Pixi Star.
About
Samantha was the host of the casting game, and was an extra who could be put into movies. If you put Samantha into a movie, now you will see her marked as "Pixi Star" instead of "Samantha", though she will be wearing the same outfit.
If you look in Pixi Star's closet, you will find Samantha's outfit there.
Outfit
| Name | Type | Category |
| --- | --- | --- |
| Big-tails | Hair | Styled |
| Trashy Life | Tops | T-shirts & Tank tops |
| Snow Leggings (Retired) | Bottoms | TBA |
| Gladiators | Footwear | Shoes |
| Fancy Hat | Accessories | Hats |
Appearances
She was the host of the casting game, but was replaced by Pixi Star. (Release of feature - March 2015.)
She was a movie extra. (Release of feature - March 2015.)
Trivia
Prior to the Pixi Star update, the (Samantha's) account appeared to be "locked out" or deleted.
There has been rumors that the "Love MSP Theme" with the 'Bring Back Samantha Shirt" means MSP may bring her back.
Ad blocker interference detected!
Wikia is a free-to-use site that makes money from advertising. We have a modified experience for viewers using ad blockers

Wikia is not accessible if you've made further modifications. Remove the custom ad blocker rule(s) and the page will load as expected.