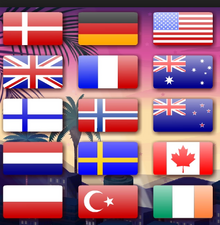 Servers are a unique aspect of MovieStarPlanet. Each server offers a different community of players; however, they all keep the same interface and for the most part offer the same features.
All servers are accessible by every player no matter their location as long as they're on the correct website; however, the player must sign up for each server individually, accounts will not carry through from server to server.
Existing Servers
Below is a chart of the different servers locations, web addresses, base languages, and launch times.
The order of the chart is based on launch time.
Country
Web Address
Language
Launch Date
Denmark(DK)
MovieStarPlanet.dk
Danish
May 2009
Norway(NO)
MovieStarPlanet.no
Norwegian
May 2010
Sweden(SE)
MovieStarPlanet.se
Swedish
May 2010
Finland(FI)
MovieStarPlanet.fi
Finnish
December 2010
Germany(DE)


(Deutschland)

MovieStarPlanet.de
German
December 2010
Netherlands(NL)
MovieStarPlanet.nl
Dutch
December 2010
United Kingdom(UK)
MovieStarPlanet.co.uk
English
December 2010
Poland(PL)
MovieStarPlanet.pl
Polish
January 2011
France(FR)
MovieStarPlanet.fr
French
February 2011
United States(US)
MovieStarPlanet.com


Or
us.MovieStarPlanet.com
(For players outside of the US)

English
August 2011
Turkey(TR)
MovieStarPlanet.com.tr
Turkish
March 2012
Australia(AU)
MovieStarPlanet.com.au
English
January 2013
Canada(CA)
MovieStarPlanet.ca
English
January 2013
Ireland(IE)
MovieStarPlanet.ie
English
January 2013
New Zealand(NZ)
MovieStarPlanet.co.nz
English
January 2013
Spain(ES)
MyStarPlanet.es
Spanish
December 2013
Trivia
Many MovieStars from the US switched to the Canadian server to have a chance to be on the leaderboard.
Despite the base language, many players may still speak English within the site.
Although MyStarPlanet is named differently, it's still considered to be MovieStarPlanet. The reasoning behind the name change is yet to be disclosed.
It's predicted that the US server has the most users or at least the most active users. This is believed because the highest scoring MovieStars are quite a bit higher there than on any other server. However, that isn't necessarily, means to believe it's true.
Sometimes a single server may be used to test an update before it's added to all the other servers. In addition to this, some servers may be updated later than others.
Certain features are sometimes kept from some servers. This is believed to be due to child safety laws of those countries.
As of fall, 2015 RoboBlastPlanet is still not available for the US, AU, or NZ servers. Additionally, the CA server is not combined with the other servers (unlike the rest).
The domains "www.moviestarplanet.jp" and "www.moviestarplanet.ru" direct you to "www.moviestarplanet.com", which indicates they are claimed by MSP. It's unknown when MSP will release the game for this countries. However, in the CDN directory where MSP stores server data there are no Japanese or Russian domains. (This most likely means that MSP has registered the domains but do not plan to release servers for these countries.)
MSP has other non-playable servers. These servers are the beta server, alpha server, upload server, and content delivery network. The beta server is used to find and fix bugs within the game. The alpha server is used to test new features. The upload and CDN server are used to upload files on MSP. Every server connects to the CDN.
Each MSP server has a unique CDN connection.
There is a MSP server with no safechat.
MyStarPlanet - (Spanish MovieStarPlanet) had testing and developer domains registered. - no other servers had this except United States; which has since been removed from public access.
You can put every character in front of .moviestarplanet.com.
Glitches & Errors
In the german Server, people randomly fame, which went up to 1 - 2 million fame a day, for doing nothing. (patched)
On germany there was a bug, where after the 8th Character in a name, the rest was replaced with "Null". (patched)
Ad blocker interference detected!
Wikia is a free-to-use site that makes money from advertising. We have a modified experience for viewers using ad blockers

Wikia is not accessible if you've made further modifications. Remove the custom ad blocker rule(s) and the page will load as expected.